Laptop and Desktop PC for Rent
Laptop and Desktop PC Rental services are usually rented for the purpose of new registration, event, training, education, marketing and road show. However, our services are getting popular nowadays for businesses, colleges, schools and entertainment sectors as well.
We are providing laptop and desktop PC from the latest brand name equipment including Acer, Dell, HP and Lenovo.
Our services are made available for short term and long term periods, which can be rent in daily, weekly or monthly basis.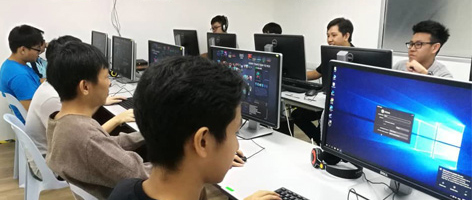 Contact Us for Enquiries
ITPA, 5-5-37, The Promenade, Persiaran Mahsuri, Bandar Bayan Lepas, 11900 Bayan Lepas, Penang, Malaysia.
Laptop and Desktop PC Specifications:
| | | | | | | |
| --- | --- | --- | --- | --- | --- | --- |
| Model | Operating System | RAM | Processor | Monitor Size | Type | Unit |
| Acer Aspire 5 | Windows 8.1 Pro 64 | 8 GB | Core i5 4200U | 15.6 inch | Laptop | 1 |
| Dell Inspiron | Windows 7 Pro 64 | 4 GB | Core 2 Duo T6500 | 15.6 inch | Laptop | 1 |
| Dell Inspiron N5050 | Windows 7 Home Basic | 4 GB | Core i3 2330M | 15.6 inch | Laptop | 1 |
| Dell Latitude E6420 | Windows 7 Pro 64 | 2 GB | Core i5 2520M | 14 inch | Laptop | 2 |
| | Windows 7 Pro 64 | 4 GB | Core i5 2520M | 14 inch | Laptop | 2 |
| | Windows 10 Enterprise 64 | 4 GB | Core i5 2520M | 14 inch | Laptop | 1 |
| HP Compaq 2510p | Windows Vista | 2 GB | Core 2 Duo U7600 | 12.1 inch | Laptop | 3 |
| HP Compaq 6710B | Windows Vista Business | 2 GB | Core 2 Duo | 15.4 inch | Laptop | 1 |
| | Windows Vista Business | 3 GB | Core 2 Duo | 15.4 inch | Laptop | 1 |
| | Windows 10 Pro 64 | 4 GB | Core 2 Duo | 15.4 inch | Laptop | 1 |
| Lenovo ThinkPad T410S | Windows 7 Pro 64 | 4 GB | Core i5 M540 | 14 inch | Laptop | 2 |
| Lenovo Thinkpad T430 | Windows 7 Ultimate 64 | 4 GB | Core i7 3520M | 14 inch | Laptop | 1 |
| | Windows 7 Pro 64 | 2 GB | Core i7 3520M | 14 inch | Laptop | 1 |
| Toshiba DynaBook S850 | Windows 7 Pro 64 | 4 GB | Intel(R) Core i5-3210M | 15.6 inch | Laptop | 3 |
| | Windows 7 Pro 64 | 4 GB | Intel(R) Core i5-3340M | 15.6 inch | Laptop | 2 |
| Toshiba R930 | Windows 10 Pro 64 | 4 GB | Core i7-3520M | 13.3 inch | Laptop | 1 |
| Lenovo Thinkpad T430 | Windows 7 Pro 64 | 4 GB | Core i7 3520M | 14 inch | Laptop | 2 |
| Lenovo C40 | Windows 8.1 | 8 GB | Core i5 | 21.5 inch | All in One | 1 |
| AIO Dell Inspiron 3052 | Windows 7 Pro 64 | 4 GB | Pentium J3710 | 19.5 inch | All in One | 1 |
| HP EliteDesk 800 G1 Tower | Windows 7 Pro | 4 GB | Core i5-4570 | 24 inch | Desktop | 10 |
| HP Compaq 8100 Elite | Windows 10 Pro 64 | 4 GB | Core i5 | 15 inch | Desktop | 1 |